6 Nations: France v Ireland
Posted on February 12, 2016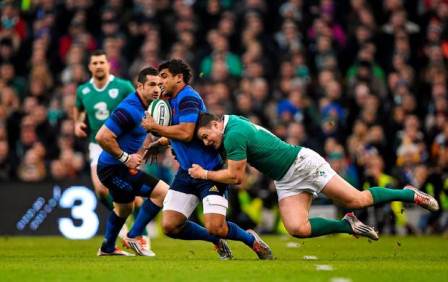 The dog came home! Call off the search.
"I'm sorry, what?", I hear you ask. Okay so let me rewind a bit.
Sunday last, 07 February 2016, there was a little matter of Ireland's first game of the 2016 6 Nations Championship, against Wales, that side we respect but just hate to lose to. Now we all know the outcome of that game, a romper stomper of a 16-16 stalemate. Reaching this outcome was the thing of heart attacks, strokes and shouting at the TV so loudly that you scare the ever living daylights out of the dog and the last you see of him is him tearing out the door and off up the road. Like I said though, he came back so all is forgiven.
Tomorrow, February 13th, Ireland faces France in Paris and I just don't have the heart to tell the dog he is likely to be doing another Linford Christie. Maybe I will just let him out the back before the game starts….
This year sees Ireland return as two time defending champions and as they strive for the hat trick of victories, many questions have yet to be answered.
1. How will Ireland be now that Paul O'Connell is not leading us out?
2. Are we still suffering the effects of a World Cup hangover?
3. With the provinces misfiring this season, where will Ireland find the form needed to win?
Every rugby fan has been fearing the worst while hoping for the best. After the 16-16 draw against Wales last Sunday, dare I saw some of the questions have been answered.
So far Ireland has done well without Paulie. Ok, so it's only been one game but you'll take that performance any day right?
There does not appear to be any World Cup hangover. In fact the squad looks hungry and focused. What else would you expect from a squad guided by the wizard Joe Schmidt?
As for the provinces' league form, while the 'big three' have been performing below the standards we have all come to expect, Connacht are charging and current stand at the top of the Pro 12 league table. So perhaps it's not all bad.
Game 2 for Ireland is against a French side also going through something of a rebuild. We all recall the walloping Ireland doled out in the final pool game of World Cup in September. How could we forget? That was the game we all watched O'Connell being carried from the field like a fallen general, leaving the battlefield on his shield.
France have been either inspired or insipid over the last few seasons under Philippe Saint-André, culminating in a World Cup quarter final humiliating decimation at the hands of eventual champions New Zealand. Now under new guidance from new head coach Guy Novès, France look to rekindle that spark, that Va Va Voom, if you will. What better way to do that than with a Championship opener against perennial wooden spooners, Italy. Instead France put up a performance that lacked coherence or heart. The backs tried a few things but eventually ran out of steam or interest, I'm not sure which. The forwards came across as lazy and disinterested. Italy for their part, as they always do, came to compete, driven by their legendary captain, Sergio Parisse and frankly, deserved more from their narrow 23-21 loss. More "Les Blew It" more than Les Bleus from France.
Come Saturday I would not be too put out with another such French performance against Ireland. In fact to do so would see Ireland steamroll them in Paris, provided Ireland show up with a performance like last week.
However I doubt anyone expects an easy match in Stade Francais. France will come with renewed ambition and purpose and will likely be focusing all their attentions on the likes of Sexton and his suspected shoulder injury. Like September's World Cup fixture, Monsieur Bastareaud will be barrelling through the lines seeking Jonny out.
Ireland will be hoping to repeat the kind of result they last had over France, that 24-9 victory in the World Cup, this time however, without the losses. That day we saw Sexton gone, O'Connell gone (forever – someone pass the hanky), O'Brien gone. Ok O'Brien self-destructed and got himself suspended so we can scratch him from the list.
Under the new leadership of Ulster's Rory Best and the arrival of new Irishman CJ Stander, there is much cause to expect a rousing Ireland performance. Stander was Ireland's stand out player last week as he pretty much continued with the form he has shown for Munster this season. Well over 20 carries, an absolute nightmare for the Welsh defence and a Man of the Match medal after 80 minutes. Stander is Ireland's new favourite flanker. O' Brien returns in place of Tommy O'Donnell, who also put in a strong showing against Wales. If O'Brien does what Sean O'Brien can and Stander has a repeat performance, then Heaslip can hopefully enjoy another strong outing at Number 8. In fact the thought of this unholy trio at their best tomorrow gives me palpitations. Schmidt may just have stumbled across a 6-7-8 combination that is going to be truly world class.
There are still a lot of ifs about tomorrow's game. Nothing can be assumed or taken for granted. How is Rob Kearney after his injury? Will he in fact pass the ball at any stage during the 80 minutes? How about that gammy hamstring of O'Brien's. Is he destined to become Luke Fitzgerald's injury buddy or can he overcome a hamstring that appears so tight you could play a speed metal guitar solo on it? Can Dave Kearney stand in for a concussed Keith Earls who appears to be back to his side stepping best?
One way or the other it's going to be a battle. Questions will get answered, more will be asked. I for one however am certainly more positive than I was a week ago when I wrote off Ireland against Wales. Provided Ireland has the focus, starts like they did last week and gets a lucky bounce or two tomorrow in Paris, who's to argue we can't come away with the W. Such is my confidence I place a €1 bet on Ireland with a +1 handicap. I know, lunatic right?
The curtain lifts in Paris at 2:25pm Ireland time so by 4pm we'll all know if I doubled my money. Let the games begin..
Image Credit: Stephen McCarthy / SPORTSFILE