6 Nations – Week 4 Preview
Posted on March 7, 2014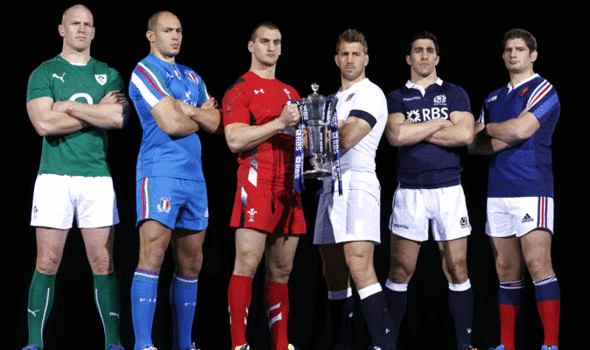 So here we are again. 6 Nations weekend number 4. Oh and what a weekend of rugby we have in store. 4 teams vying for the title, all with realistic chances of the ultimate victory. All with something to prove and something to fight for.
Looking at Wales. Here you have a team looking for an historic third successive title. A team packed full of victorious Lions that are fighting not only for themselves and their own bit of history but also for their coach, Warren Gatland. Gatland, while a most successful coach of the 2013 Lions, was widely criticised for his test team selections on tour where he relied heavily on his Welsh players over those from the other home nations. Some say this was showing an unfair bias but ultimately Gatland did help deliver the series victory over Australia. This 6 Nations the Welsh are out to prove they are the best, to prove they all deserved their test positions and also to prove their coach was right. Sunday sees them tackle England at Twickenham, where Ireland came unstuck last time out.
Looking next to France. The consistently inconsistent. Following last year's last place finish in the 6 Nations, Les Bleus are looking to set the record straight. Fabulously talented but at times volatile and apathetic, France have shown times of brilliance as well as mediocrity this season. A see-sawing thriller against England on day one has been the highlight as since then France has turned out an average performance against a spirited Italy and then they didn't even turn up against a rebounding Welsh side. But yet here they are again, in contention for the title. On Saturday they take on Scotland, a team on a high from their last gasp comeback victory against Italy two weeks ago.
Next up, England. A team steeped in history and success. A team full of talent, size and power. England has been there or thereabouts each and every year but this year feel they have a real point to prove. They have blooded many new players in the last few seasons following the exit of the old guard, those World Cup winning players of 2003, and now there is a feeling within the England camp that it is time for the new breed to come of age. Following their last gasp loss to France in Paris on day 1, the England show appeared to have faltered at the first hurdle. A workman like victory over Scotland followed up with a gruelling and disciplined victory over the resurgent Irish, has seen England installed as the tournament favourites. Standing in their way this weekend is Wales, the team surging towards the title following their comprehensive hammering of France in week 3.
Finally, to Ireland. Like France, 2013 is a year to forget. Avoiding the wooden spoon only because France had a worse tournament, 2014 sees a new head coach in the form of Joe Schmidt. Ireland came into the championship as the form team. Having taken New Zealand to the absolute wire in November, there was a real sense that Ireland, under its new management, was going to be a force for 2014. And so it began against Scotland in Dublin with Ireland delivering a solid victory. A complete performance against the Welsh saw people speaking of a Grand Slam, such was the manner of the performance of Ireland in Week 2. Then to England where the wheels came off against a solid, well schooled and disciplined English team, a hard fought game that saw England reignite their title aspirations. This weekend sees Ireland face Italy in Dublin with Irish legend Brian O'Driscoll togging out for his world record 140th test match in what is his final home performance for Ireland before he hangs up his boots at the end of the season. With the title on a knife edge, it is assumed by all that Ireland will be in a fighting spirits to get one hand on the trophy they last won in the Grand Slam year of 2009. At the very least, the team and crowd alike will want to give O'Driscoll the send off he deserves.
So let's have you Week 4! So many possibilities to consider. Come Sunday the title could be down to only two!