Autumn Rugby – The Intelligent Victory
Posted on November 9, 2014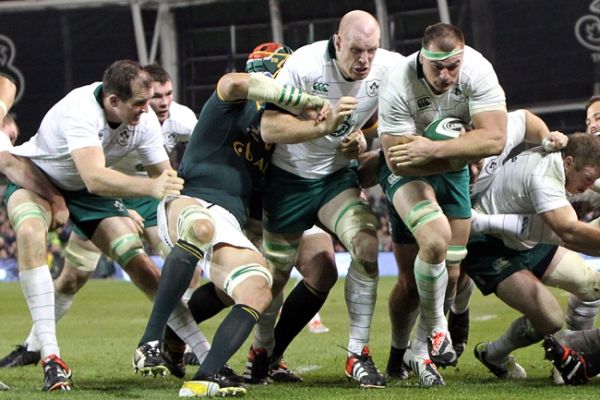 Moments in Irish sport where expectation is so far exceeded by excellence that it surely must be a dream are rare. It seems in recent years that the Irish rugby team has not been getting the memo. Yesterday saw another example of how predictions, form and preparation meant nothing to Ireland.
With South Africa visiting for the first of the Autumn series, the general thought was Ireland would be brave but ultimately be beaten by the worlds number 2 side. A side that recently beat New Zealand, ending the world champions 22 match winning streak. A side that was injury free, well training and ready for war.
Ireland on the other hand had 16 players unavailable for selection due to injury. A new centre partnership and a squad that had not played together in the green jersey for 6 months. Few were giving Ireland a chance of registering only its fifth win against the Springboks. Our own predictions here on BSMG.ie went for a spirited Ireland performance but a South Africa win.
In hindsight I guess this had all the making for a true underdog victory. And so it proved to be, in such a sublime and beautiful show of intelligence and passion.
Following a day of rain, the skies were clear for kick off. The Aviva Stadium was bristling with excitement and nervous energy for what lay ahead. This is the buzz brought by a top southern hemisphere team. A late change to the side saw Rhys Ruddock replace Chris Henry at 7, yet another blow to the team which seemed to solidify the expectation of a hard fought defeat for Ireland.
The first 10 minutes however showed real promise. Territory, possession, a strong scrum, just the kind of start Ireland needed. Add to this 6 points from the boot of Sexton and it became clear that the Ireland team hadn't been listening to predictions. They were here to win.
Inevitably, South Africa found their feet and began to take physical control of the game. Dynamic running from the backs and application of their bulk and strength giving them total dominance in the scrum not only started to the give them ball and territory, it also started to put the fear of god into the crowd that it was only a matter of time before the flood gates opened and the tries started to come. But they didn't. Heroic defense from Ireland and uncharacteristic handling errors by the 'Boks meant that by the end of the half the visitors only had 3 points to show for their dominance.
Queue half time and the apparent magic of a certain Joe Schmidt. Whatever he said at half time, surely things about patience, discipline, application of the training drills, resulted in a team possessed for the second half. Often games are won by a single event. Momentum changes and that's it. So it was that right from the start of the second half, Ireland were disciplined, focused and aggressive and within mere minutes had fashioned themselves a lineout on the visitors' 5 metre line. Queue the rolling maul and almost without challenge, Ruddock, the late addition to the squad, was going in for the game's first try. Another slotted Sexton kick and Ireland were 13-3 up. Not quite out of sight, you never are against South Africa, but this was certainly not in the script.
Confidence was now riding high and Ireland rode this wave all the way to the end. Further penalties from Sexton and late sub Madigan, a sublimely worked try for Tommy Bowe and Ireland were 29-10 up until the 80th minutes until JP Pieterson went over for a consolation score for South Africa. Queue the rapture.
Ireland has beaten class opposition quite regularly in the past. Remember France in the 6 Nations, or Australia in the last World Cup. Ireland is recognised as a true test for the rugby greats. However Saturday saw something that has not been witnessed in any great capacity over the years. Ireland has often won games on raw talent and fearless ambition and while these were once again on show yesterday, they were presented to the opposition in probably the smartest and most disciplined performance an Irish side has ever managed before. When overcome in the scrum, they worked it quickly out the back so as to negate the Springbok advantage. Executing intelligent training ground moves like the Ruddock move on a forming maul which killed it before it started. Pack discipline saw only a handful of penalties conceded. This was southern hemisphere level stinginess. The only downside to a great day out being the sight of new centre and Ireland debutant Jared Payne limping off late on, a nation now hopes that this is not something serious and we will see him back in time for the test against Australia.
The sheer intelligence of Ireland's victory is something that the big names in world rugby will be mulling over for the weeks and months to come. They all know Ireland has the talent, the belief and the fearlessness. These attributes have made Ireland a thorn in the side of top teams for the last decade. Now however they have more to think about. Ireland beat South Africa by outsmarting them. They then out muscled them and then finally they broke their spirit. This just does not happen in world rugby.
This Autumn series for Ireland, England, Scotland and Wales is all about blooding players and prepping for the world cup next year. It's about making a statement to the Southern Hemisphere big three that they will not have it all their own way. Of the four home nations this weekend it is clear that Ireland has made one hell of statement and everyone is taking notice. South Africa took a beating plain and simple. They took a beating from a team with a huge injury list. All will be wondering just how good can Ireland actually be come World Cup time with Joe Schmidt working his magic and with a full squad to choose from.
Next up is Georgia and you can be sure that where possible, changes will be made to the team. Some will need rest, others deserve some game time to apply the lessons learned from the training ground. Next Saturday is the kind of banana skin Ireland seems to love to stand on over the years. To do so now would undo the great work of yesterday. Georgia will bring a big physical game so once again intelligence must prevail. One game into the new international season and expectations are already sky high. Big guns and banana skins must be treated equally.
Our prediction for next week is a win for Ireland. It will certainly not be the same 15 that faced South Africa but we can only expect that the same focus and discipline will be on show against a Georgian side that will be spirited but ultimately not up to the skill or fitness level of the Ireland team.
Image credit: Joe.ie and Tony Cuddihy