Brent Pope launches his biography "If You Really Knew Me"
Posted on December 4, 2012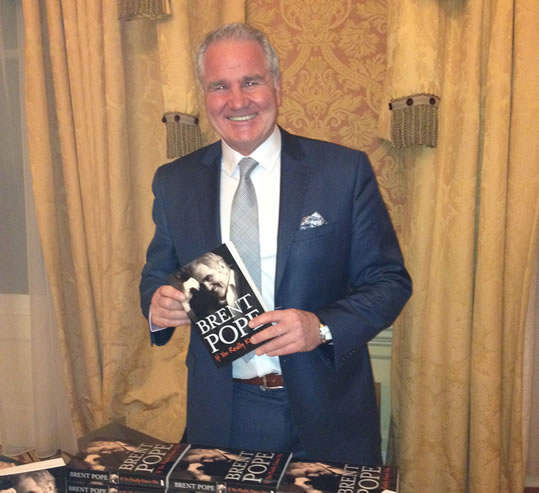 Genial Kiwi Brent Pope had many well wishers from RTE, St Mary's College and Clontarf Rugby Clubs and many others with him to launch his autobiography 'If You Really Knew Me' in the Shelbourne Hotel last night.
Bad traffic didn't deter Rugby pundit 'heavyweights' George Hook, Tom McGurk, Victor Costello, Alan Quinlan and Risteard Cooper from scrumming down with Popey for photographs and Autographed copies of the book.
Kevin McDermot and GAA Star Liam Hayes represented Irish Sports Publishing and Kevin also acted as MC for the evening. Kevin, George Hook and Brent Pope spoke and most of the stories were true !
Promoter Peter Aiken and his lovely wife Mary were seen talking to Alan Quinlan and Charlie Chawke about Thomond Park's unique atmosphere – in preparation for next July's concert there by Bruce Springsteen and the E Street Band.
Gary Lavin, Paul Dean and Johnny Muldoon led the St Mary's 'pack' into the reception while Warren O'Kelly propped up the Clontarf contingent, again!
A bevvy of lovely ladies added real glamour to the occasion and all clutched their personalized copies of the book.
Brent Pope thanked all in attendance, including his 'agent to the stars' John Baker, and Popey recounted with humility some of the ups and downs he had encountered on and off the pitch to date. He commented on the Irish 'banter' and gave as good as he got in the night's many verbal exchanges!
The book 'If You Really Knew Me' is available in most bookshops at € 19.99 – well worth it as a gift for the Christmas list!