Clean sweep for Ireland in Autumn Rugby Interationals 2014
Posted on November 24, 2014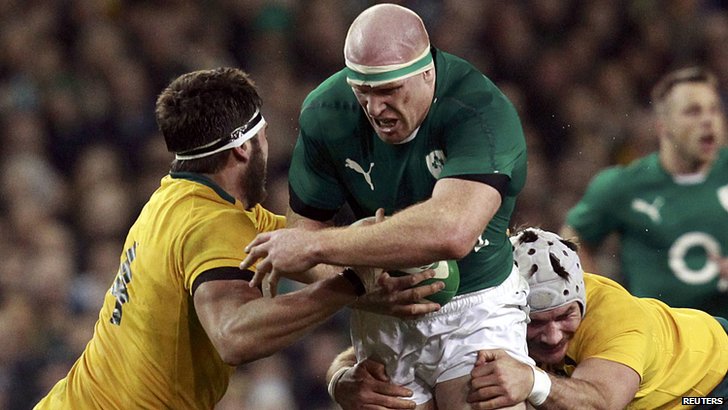 Three weeks ago a nation wondered about what the pending Autumn rugby test series would hold for Ireland. With so many unanswered questions around the squad, like who would be the new centre pairing and would they be able to form a coherent, world class partnership that we got so used to with O'Driscoll and D'arcy? Then there was the epic casualty list. 13 first team names out before the first game. Would Ireland have the strength and depth to compete against two of the big three in world rugby. They being of course, South Africa and Australia.
November 8th – questions answered! Ireland's performance against the Springboks sent a jolt through the rugby elite. In years past Ireland has been seen as tricky opposition. A side that always puts in a strong, spirited performance but ultimately cracks under sustained pressure. Against South Africa things were decidedly different. While the characteristic fighting spirit was on show, Ireland also showed their intelligence. Where South Africa were strong, Ireland changed their play to negate their opponents advantage. One key area was at scrum time where Ireland fed quick ball to the back of the scrum so it could be spread wide. It was also evident that Ireland had their homework done on the South African set piece. In the end Ireland wore down the mighty 'Boks and then went on and broke their spirit. The world took notice.
November 16th brought new challenges. In Georgia you had a powerful forwards team, the majority of whom ply their trade in the French top tier. While the public perception was an easy win for Ireland, those in the know recognised the possible banana skin that Georgia posed. It was time for some patience from Ireland. The game played out true to form, Georgia were powerful in the forwards and shutdown the Irish advance. History has shown us that we could have been looking at an ugly small points win and a sense of frustration that would linger on up to the Australia game. Not this time however, a half time talking to by the genius Schmidt and Ireland came out with purpose. Their patience paid off. Having learned from the first 40 minutes, Ireland eventually ran in 6 tries, the only blemish on the day was the leaking of a soft try to Georgia.
Finally then to November 22nd and the arrival of Australia to the Aviva. Last time around it was a 32-15 Australia blow out that left Ireland sulking into the winter season. On Saturday it was time to atone for errors past. Australia was looking to salvage their tour with a win, having lost their second game to France in Paris. They surely felt further wounded knowing that their opponents in green had overtaken then in the world standings, with Ireland now matching their previous all-time high of 3rd.
Saturday saw a frenetic, heart in mouth, 80 minutes with Ireland taking a 17-0 lead in the first quarter, Australia bounced back to level things by half time and then an all-out onslaught in the final quarter from Australia where you felt, like so many times before, that Ireland would crack at the death and then rue their chances. No. Not this time. As the game went on and Australia sent on their replacements, Ireland's pack hunkered down and like a fine wine, got better with age. 6 of the 8 starters in Ireland's pack put in 80 minutes of full blooded heroics and their defiance in the face of growing Australian pressure literally made the hairs stand on end. This defiance was punctuated late in the game with a massive tackle by captain Paul O'Connell on the charging Ben McCalman. It was a hit and drive that might as well have come with a Batman style "Kaaapow" speech bubble. One final terrier like turnover from replacement Ian Madigan and the referee saw fit to end a test that ticked all the boxes. Ireland 26, Australia 23.
So a clean sweep for Ireland, it's first since 2006. This time it was against world class opposition. The impact this time around is the nature of the victories. Words like commitment, skilful and passion have been joined by the likes of 'intelligent', 'defiant', 'controlled'. Under Joe Schmidt there is a team in green that is building towards the World Cup in 2015. While victory has been sweet, it has not been without flaw and the team have joined Schmidt in recognising these flaws and working hard to eradicate them. If the world cup were to start next week Ireland would be a true contender, even with the bus load of injuries it is carrying.
Three weeks ago it was 'oh what to do without O'Driscoll?'. Today, perhaps a little unfairly, it's 'O'Driscoll who?'