End of an Era, Start of an Era?
Posted on March 20, 2014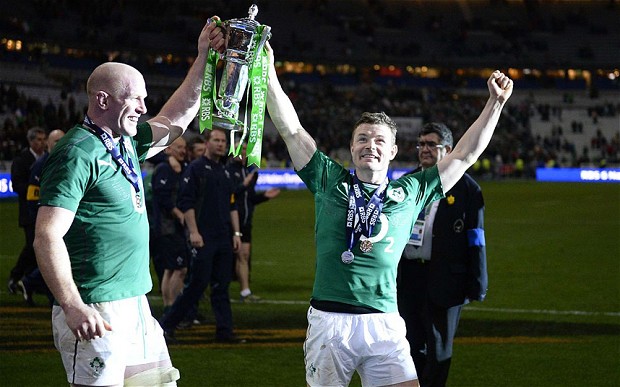 The dust has settled on the 6 Nations Championship for 2014 and it is only now, five days on that we are catching our breath. Who could have written the script for this years series, save for Hollywood script writers that is?
At the beginning of the championship back in February the stage was set with a number of sub-plots. England was coming of age and ready to take centre stage. Wales, going for three in a row was out to prove their coach Warren Gatland right with his contentious Lions tour selections. France was out to prove they were not the wooden spoon team of 2013. Italy were out to show how much they have progressed by backing up their dragon slaying endeavours of 2013. Scotland was ready to steady the ship and build on a strong 2013 championship. And then Ireland. Ireland was there to build on their November series where they were oh so narrowly beaten by New Zealand. Ireland was also there to see out the end of an era for the modern professional game, that being the final international tests of a certain Brian O'Driscoll.
The stage was set for one monumental battle as six teams looked to stake their claim on the title and 2014 was a year for the highlight reel. So many standout performances and moments that it hurts the brain just trying to remember them all. The only real disappointment it would seem is that it had to end.
Now with the championship over, with battered and aching bodies on all sides, hushed and empty stadiums across the 6 Nations capitals, standing at the top of the pile is Ireland, champions for just the second time in the 6 nations era. For a sporting nation so accustomed to heartbreak and 'almosts', winning in Paris and in doing so taking the title, giving O'Driscoll the send off he deserves, seems almost the stuff of fantasy. You almost expected to see film credits appear at the end of the game that ended with a teary O'Driscoll winning the hearts of every woman in Ireland. And those of most men too it seems.
It truly is the end of an era for Irish rugby. Our hero is gone and there is now a massive O'Driscoll shaped hole in the no.13 back row position. The questions have started in earnest already. Who will fill the jersey? Whoever does will unfortunately be always measured against O'Driscoll and his superhuman performances. It is not an enviable task that is for certain.
As we look back with fondness on the O'Driscoll show we must also look forward and ask is this the start of a new era? Ireland were not handed the title this year. They fought long and hard, with conviction and often with eye watering flair. They utilised a full squad of players that all stood and performed, regardless of whether it was their 141st cap or their 1st.
There is much now to be excited about within Irish rugby. The tide has come in and each position is awash with talent. There is now a squad of real depth, with more international standard players pushing to join the ranks of green. With the experience of winning in Paris, seeing out a victory in the manner they did, and with a World Cup in our back yard next year, could we be witnessing the dawn of a new era for Irish rugby.
While our hearts break with O'Driscoll's departure our spirits and hopes are lifted by what the future holds for this Irish team, 6 Nations Champions for 2014