Extra Baggage Fee for Ireland's Cricketers
Posted on December 17, 2013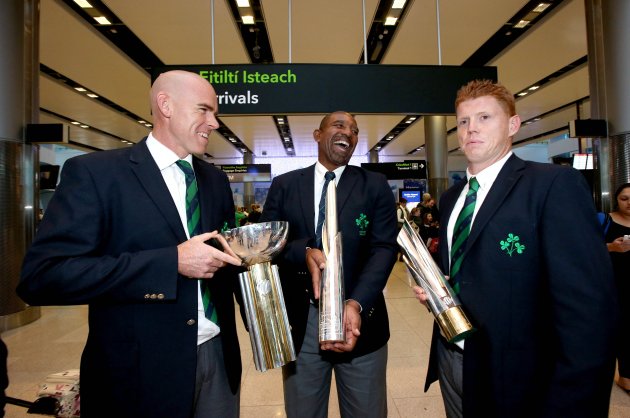 Ireland's victorious cricketers arrived home to Dublin Airport today with a few pieces of extra luggage.
Phil Simmons' side beat Afghanistan on Friday to clinch the ICC Intercontinental Cup.
Their fourth win in the competition completed a historic hat-trick which saw them win three international tournaments in three different formats.
Pictured here are veteran bowler Trent Johnston, who won his final cap on Friday and will now take over as coach of the women's national side, and Kevin O'Brien with Simmons.
Following their impressive win against Afghanistan the question must now be asked – "When will Ireland be made a full Test side?" It would certainly appear that Cricket Ireland is head and shoulders above it's rivals in their current tier of world cricket. It now makes sense to promote them to the big leagues where they can take on the challenges they obviously crave and more importantly need if they are going to continue to grow as a cricketing nation.