Irish rugby stars take time out to welcome brave cancer patient Merryn Lacy to their training session
Posted on February 19, 2014
Ireland's rugby players took a break from their build up to Saturday's crucial match with England in the Six Nations in order to welcome four-year-old cancer sufferer Merryn Lacy to their Carton House training session.
Lacy, who has stage four Neuroblastoma cancer and is currently undergoing frontline treatment, and chemotherapy, in Crumlin, was greeted by Head Coach Joe Schmidt, Ireland captain Paul O'Connell and his fellow teammates after their Monday training session.
Merryn and her family were invited out to the training camp in Maynooth by Ireland skills coach Richie Murphy. They were greeted by team manager Mick Kearney and introduced to the players as they left the pitch.
Lacy said, "All of the players were absolutely great and they all came over to say hello. I must say that Paul O'Connell, Ian Madigan and Rob Kearney were all fantastic and showed a genuine interest in Merryn. She was in awe of Devin Toner when she met him and as he's so tall [6′ 10″] she looked up and must have thought he went on and on.
Lacy explains that the visit out to Carton House was fortunate as it fell during a short window of opportunity between his daughter's chemotherapy treatment. "She finished chemo on Sunday," he said, "and was in good form on Monday so we took Richie up on his invite. The chemo only really starts to affect Merryn's body after a few days so she will be laid low later in the week."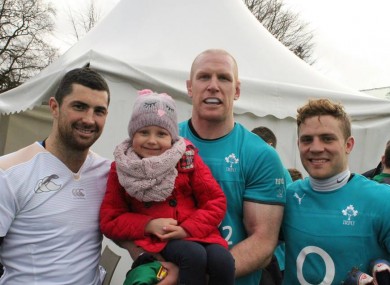 Another reason for the trip out to Carton House was to raise awareness of a fundraising campaign to pay for Merryn's treatment and care. She will continue her treatment at Crumlin Children's Hospital until the end of this year and the Lacy family, including mother Jude and Merryn's younger sister Cora [3], are hopeful that she will be approved for surgery, which should alleviate her condition, in the coming weeks.
Lacy cautions, however, that even if his daughter does beat cancer, Neuroblastoma sufferers face a staggering relapse rate of 70%. Further, extensive treatments may follow down the line and other countries [America, Germany and the UK] are pioneering new techniques such as blocker treatment. The Lacys are therefore fundraising for a rainy day they hope they will never have to face.
Lacy said, "As parents, we feel we owe it to her to do our best for her because she has done everything that has been asked of her, be it the early morning injections or the endless rounds of treatment."
"Any money raised," he added, "that does not go towards Merryn's treatment and care will go towards research on children's cancers."