Jack McGrath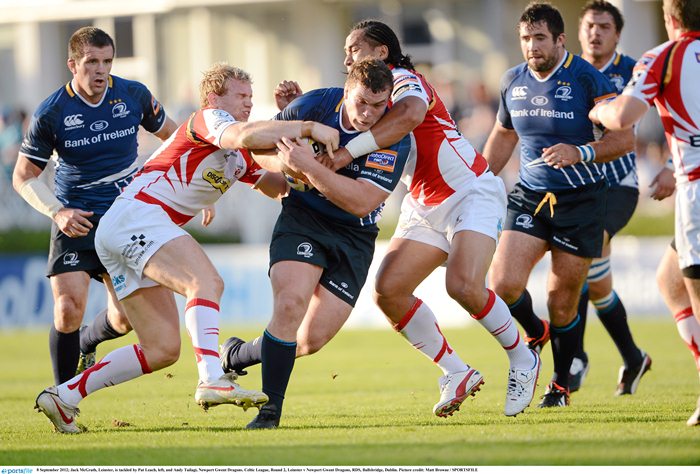 DOB: 11th Oct 1989
Height: 1.85 m (6′ 1″)
Weight: 122 kg (19 st 2 lb)
Position: Prop
The Dublin prop made a name for himself as a teenager with St Mary's College in Rathmines, with whom he played Schools Cup rugby.
He is a graduate of the Leinster Academy and has played 21 times for the 'A' side in British & Irish Cup, interprovincial and friendly matches. McGrath took over the Leinster A captaincy duties for a large portion of the 2011/12 B&I Cup campaign as he and his teammates reached the semi-finals. He has been capped through the Leinster age grades and has made nine appearances in the front row for the Ireland Under-20 team.
McGrath made his senior competitive debut for the province in April 2010 as he packed down against Glasgow Warriors and experienced international props Moray Low and KevinTkachuk. Six more Leinster caps followed in 2010/11 as McGrath provided ample back up to Cian Healy and Heinke van der Merwe in a Heineken Cup winning season.
The role of replacement prop was one that the young Dubliner was warming to and 13 appearances followed in 2011/12. In May 2012 he scored his first try for Leinster as he started and finished a move involving Dominic Ryan and Brendan Macken to score a vital try in a 22-16 away win.
The 2013/2014 season is already showing signs of being the breakout year for Jack as he is putting in consistently impressive appearances for Leinster in the Rabo Pro 12