Kevin O'Brien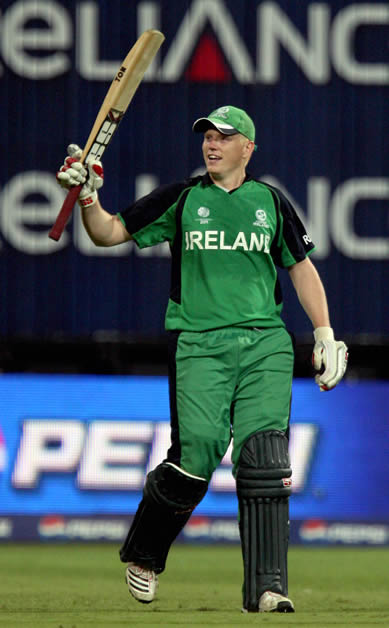 Kevin O'Brien is Ireland's most famous cricketing hero! In a sport not oft followed here in Ireland, Kevin has become a giant on the global cricketing stage. Most famously, Kevin holds the world record for the fastest ever century scored at a World Cup, coming from 50 balls against England on 2 March 2011.
An all-rounder, O'Brien is an aggressive right-handed middle to lower order batsman and a right-arm medium-fast bowler. He made his One Day International (ODI) debut in 2006 in Ireland's inaugural match. O'Brien played for Nottinghamshire in 2009, and in 2010 was awarded a contract with Cricket Ireland, making him one of six players with a full-time contract with the board.
Kevin is a strong batsman, with the ability to clear the ropes. In his record-breaking century against England in the 2011 World Cup he hit the longest six of the tournament.
For 2013, Kevin has signed for Bangladesh Premier League (BPL) side Rangpur for the Twenty20 series. Check out the news story of the signing HERE