Mark Pollock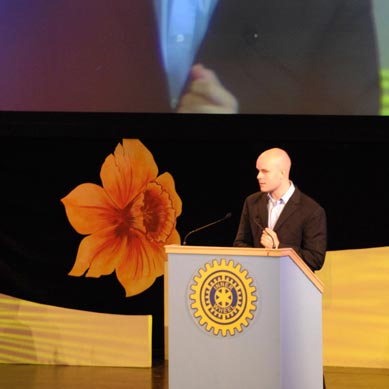 International Speaker, Adventure Athlete & Author
Mark Pollock's life will never be what it would have been… Instead it has been, and continues to be, an inspirational story of the most rare and adventurous journey.
Articulate, athletic and employable, suddenly at 22 years of age Mark went blind. Within days his world collapsed into a dark haze of uncertainty, lying in bed waiting for a miracle that would make him see again. But the miracle did not happen and Mark had a choice to make: to continue to lie there or to take on the challenge of blindness and rebuild a life worth living.
Six months after going blind, Mark had found computer software that would speak to him and he could work again. Two years later he completed a Masters Degree, a year later won medals rowing at the 2002 Commonwealth Games. He has completed six marathons in one week in China's Gobi Desert, raced a marathon at the North Pole and on Everest, competed in Ironman Switzerland and the Dead Sea Ultra, has an international speaking business and has published a book on the life choices of inspirational people.
Now Mark uses his experience of overcoming perceived obstacles to help people and businesses redefine what's possible, concentrating on: personal responsibility; facing facts; making committed decisions; and creating formal and informal teams.
Mark is tangible proof that when faced with uncertain times, by taking decisions and committing to action, you can do more than just survive – yo can succeed. This belief and Mark's gift for communication have made him a world class speaker, author and adventurer.
To mark his 10th anniversary of going blind, Mark has entered a three man team in a 1,000 km race to the South Pole. The team will man-haul 90 kg sledges (pulks) up to 16 hours each day for 45 days. They will be sleep deprived, hungry, cold and tired, risking polar shock, frost bite and hypothermia – while racing!