Niamh Briggs named captain for Ireland's 2016 6 Nations campaign
Posted on February 4, 2016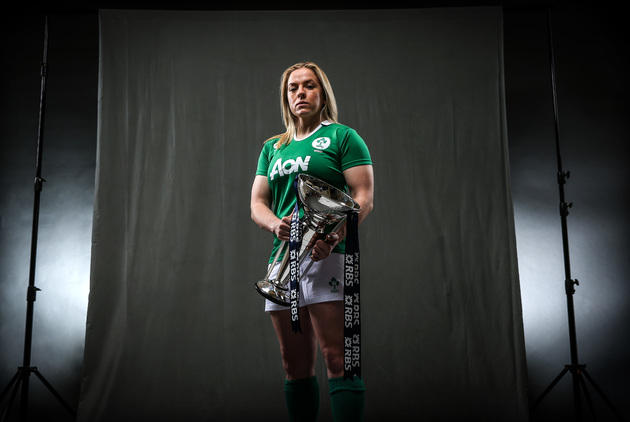 The 2016 6 Nations is almost upon us. Not just the men's tournament but also the Women's and Under-20s. While the Ireland men's squad are the double defending champions in this year's 6 Nations, the women are also coming back to defend the title they won last year with their rout of Scotland that saw them sweep to victory.
As with 2014 and 2015, Niamh Briggs will captain the national side as she looks to lead the team to further glory. Like the men, these are fruitful times for women's rugby in Ireland. 2015 saw the second 6 Nations title in three years and a semi-final finish in the 2014 World Cup. 2013 was also a year of personal triumph for Briggs as she was named scrumqueens.com World Player of the Year.
With all the success over the last few years, this year the bar has been set high. Accustomed now to winning, Briggs and co. have ambitions to defend their 6 Nations title. Of the pending tournament Briggs says, "I really want to win. Every time we play, we want to win. It would be nice to be able to put 'consecutive Six Nations winner' beside your name."
There have been a number of forced changes to the squad that lined out last year. A number of the back line stalwarts are not available due to their involvement with the 7's code as they push for qualification for this year's Olympic Games. This has seen the arrival of several new faces to the squad. Of the squad changes Briggs added,
"It's important that we keep raising our standards and that the girls coming in meet them, rather than us dropping down, because we don't want to go back."
Ireland are set to host the 2017 Women's Rugby World Cup and as a squad they are keen to continue to build on the successes of previous years, expanding the squad and their experience so that come 2017 they can put down a legitimate challenge for world cup glory on home soil.
This Saturday sees another step on that journey take place with Ireland facing off against Wales in Donnybrook, with kickoff at 13:00.
Credit: Image Source: Billy Stickland/INPHO