Niamh Briggs named captain of Ireland Womens Rugby team
Posted on January 28, 2015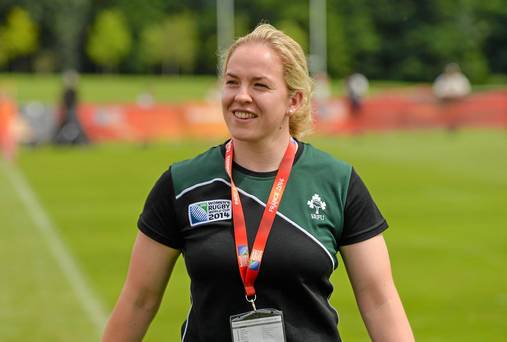 Following the retirement of Fiona Coghlan, Niamh Briggs has been named as her successor. The Waterford native has been a key figure in Ireland's progression through the ranks of world rugby over the last number of years and Niamh is a well respected by her peers among the Irish set up.
With 45 international caps notched up as of Jan 2015 and numerous personal accolades including World, Irish, provisional and club Player of the year, in addition to her nomination as IRB World Player of the Year for 2014, Niamh's class and experience made here a logical choice to lead the team into not only the 2015 6 Nations campaign, but also onward into the future as the team continues to develop and eyes turn to the World Cup in 2018.
"It's a massive privilege to represent your country at any level, but to captain your country is a great honour and I was delighted to be asked. To follow in the footsteps of an unbelievable leader in Fiona Coghlan is a fantastic honour and I look forward to captaining this great squad." said Briggs.
This years 6 Nations squad sees 12 uncapped players join the fold so Niamh will be key in developing the player mindset and providing leadership both on and off the field. Given her experience and work ethic, it is safe to say that in Niamh's hands, the future is looking very very bright indeed.
Ireland's 6 Nations Schedule for 2015
Friday 6 February [19:00] Italy v Ireland, Stadio Mario Lodigiani
Friday 13 February [19:30] Ireland v France, Ashbourne RFC
Friday 27 February [19:30] Ireland v England, Ashbourne RFC
Sunday 15 March [12:00] Wales v Ireland, Swansea RFC
Sunday 22 March [13:00] Scotland v Ireland, Broadwood Stadium
Photo Credit: Diarmuid Greene / SPORTSFILE