Nicole Coffey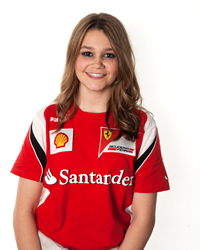 Nicole Coffey is currently one of the best Kart Racers in Ireland. What makes her unique is that she is currently the only girl on the Irish circuit. What makes her doubly unique is that she is a race winner in a totally male dominated sport. To put it in perspective, that's like Katie Taylor boxing against Manny Pacquiao.
This is all the more impressive when you consider that Nicole is still only 13 years old, in just her third season, racing against boys who are 14 and 15, many of whom are in their fifth or sixth season. In her first season, 2010, she was awarded the Motorsport Ireland Novice Driver of the Year trophy and she has been a contender for race wins ever since.
In 2012 Nicole was selected by Motorsport Ireland to take part in the CIK / FIA Karting Academy Trophy (the World Championship for 13 to 15 year olds) in Bahrain. Taking into account that she was only one of two girls competing in a field of 60 of the worlds most talented young karting drivers, whatever way you cut it, Nicole's 6th place overall finish can only be described as stellar.
As 2012 progressed it became clear it was going to be a breakout year for Nicole. Consistently placing in the podiums and winning more often than not, Nicole's results are something of a highlight reel of achievements. Her successes and awards included:
– All Ireland Minimax Karting Champion 2012
– Southern Kart Club Miniax Karting Champion 2012
– Munster Kart Club Minimax Karting Champion 2012
– Motorsport Ireland Minimax Karting Vice Champion 2012
– Irish Karting Club Young Driver of the Year 2012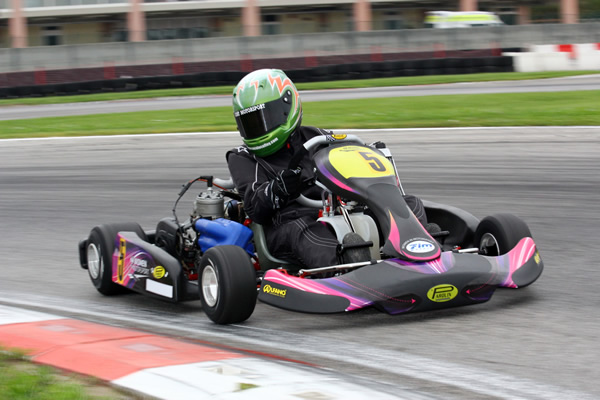 Nicole is fully focused on carving out a successful career in Motorsport and she has put together a race programme for the coming seasons which will see her follow the path of past champions by competing both at home in the Domestic Championship and also in international competitions against the best Karters in the world.
Nicole's impressive racing results and her media friendly, charismatic personality have results in numerous positive TV, Press and Radio coverage which could be used in the future to the benefit of her Commercial Partners.
Check out RTE Radio 1 Sports Des Cahill and Joanne Cantwell interview Nicole in April 2013. Listen HERE