Nicole is crowned the Queen of Karting
Posted on November 2, 2012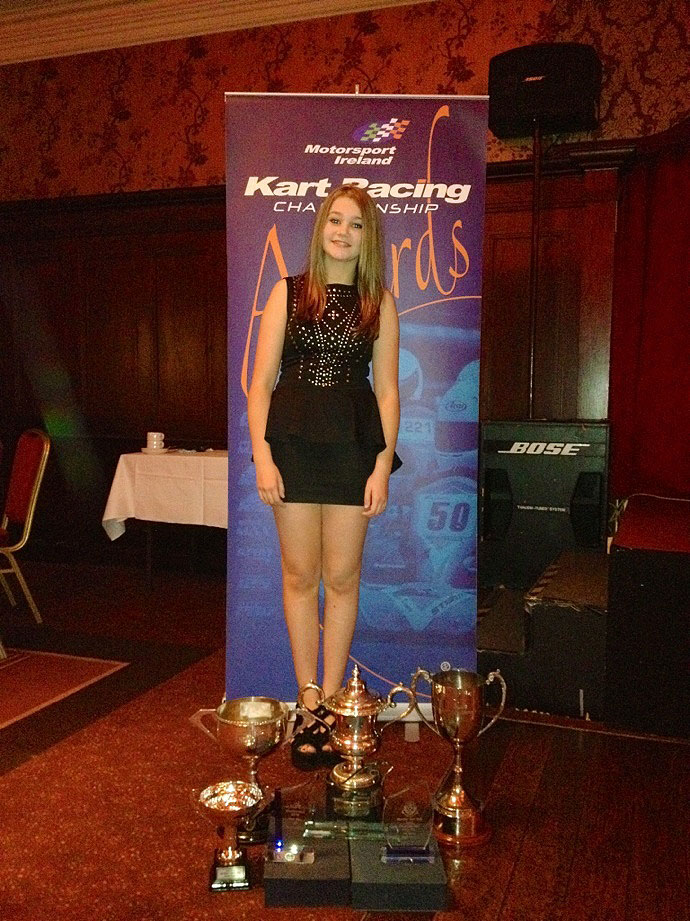 The annual Motorsport Ireland Karting awards took place Friday Oct 26th last. Each year these awards recognise the best in Irish motorsport talent, from karting to rally and more. This year saw the overwhelming recognition of Nicole Coffey in Karting's Minimax class.
In an almost totally male dominated sport, Nicole has been steadily rising through the ranks and is now regarded as one of Ireland's finest karting talents. This year has been nothing short of stellar. Having moved up to the Minimax class in 2011, Nicole has notched up multiple Championship wins this season and has also been recognised with a special award from the Irish Karting Club.
This season, 2012, Nicole has reached the top of her class, sweeping the boards when it comes to championships and awards. For any motorsport professional the list of accolades she has amassed this year is simply astounding. They include,
1) The All Ireland Karting Champion.
2) Munster Karting Club Champion.
3) Southern Karting Club Champion.
4) Motorsport Ireland Karting Vice-Champion.
5) The Irish Karting Club "Young Driver of the Year".
This final award actually covers not only Minimax in which Nicole currently races but also the 3 biggest racing classes and is awarded to the most outstanding Driver of the Year.
So what does next year and the future hold for Nicole? Well first she is planning a move up to the KF3 class where she intends to further hone her driving skills. More races on the continent and the UK are also on the cards. As Nicole moves through the classes and ranks the competition will undoubtedly become tougher but she has proven time and again that her skill, speed and determination has marked her in the sport as a name for the future. Who knows, perhaps she will be Ireland's first female Formula 1 driver in the not too distant future.
From all here at BSMG, a big congratulation to Nicole on her amazing achievements in 2012. We are all watching to see what comes next!