Paul O'Connell Announces his retirement
Posted on February 9, 2016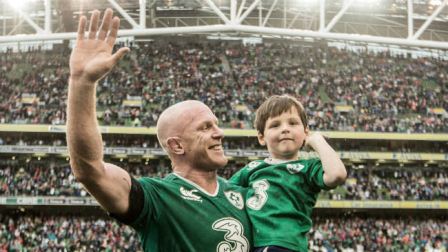 Today, February 9th 2016, saw the announcement from Ireland rugby legend Paul O'Connell that he has retired from rugby with immediate effect. The announcement comes some 5 months after he suffered a horrific hamstring injury in the World Cup victory over France.
On that fateful day, in what has turned out to be his last professional rugby match, rugby fans watched as O'Connell was carried from the field, akin to a fallen warrior leaving the field of battle on his shield. Over the winter O'Connell had undergone surgery to repair the injury and then months of intensive rehabilitation. Alas, it became apparent recently that returning to play was not possible and he was forced to heed the advice from his medical team.
Of his retirement O'Connell issued a statement via the IRFU and says,
"It is with deep regret that I have decided to retire from professional rugby following medical advice. I would like to take this opportunity to thank all at Rugby Club Toulonnais for their understanding and support over the past few months.
Since sustaining the injury at the World Cup I have been fully focused on returning to fitness and starting an exciting new chapter for both myself and my family in Toulon. Unfortunately this will no longer be possible."
With the 2016 6 Nations just days old, the Irish public are still trying to adjust to not seeing O'Connell lining out as captain. Even though we knew he had retired from International rugby following the World Cup, news of his retirement will come as blow. As a nation we had wished him well with the next chapter of his career with Toulon. Such was his contribution to Irish Rugby, nobody begrudged his decision to move to the Top 14 side that currently dominates European rugby. Even at 36 he was a formidable addition to an already star studded side.
Today's announcement saw O'Connell reflect on an incredibly successful career during which time he was a star among world class stars.
"I have been blessed to be a professional rugby player for over 14 years and to be part of Munster and Ireland teams that have experienced success.
I have played with some of the best players to ever line out in the red of Munster and the green of Ireland and have had the privilege of captaining my country.
I would like to thank those at Young Munster RFC, Munster Rugby, the IRFU and Lions Rugby who have supported me over the course of my playing career."
Though one of the finest players of a generation of world rugby, O'Connell remains a humble and approachable man; a true gentleman. Of the adoring support he has received over the years, he says,
"I would like to thank everyone who has supported the teams I have been a part of. The support you have shown me is humbling and an immense source of pride for both myself and my family."
Over the course of his career O'Connell has captained Munster, Ireland and the British and Irish Lions. His rousing team talks are the stuff of legend and have brought men to tears, such is his ability to inspire and motivate. His words have always been backed up with actions on the field. Never one to shy away, always there to lead from the front. This is the kind of leader that men follow, and did for years at provincial and international level.
Looking back over a career that one cannot help but feel has been cut short by injury, O'Connell's achievements are immense:
Appearances
Munster: 174 caps
Ireland: 108 caps
British and Irish Lions: 7 caps
Honours
2 x Heineken Cups (European Champions Cup) with Munster
3 x Celtic League titles with Munster
1 x Celtic Cup
3 x 6 Nations titles
1 x Grand Slam
4 x Triple Crowns
3 x tours with the British and Irish Lions
1 x tour victory
As one chapter ends, another begins and while only O'Connell himself knows what he wants to do next, there is surely going to be a huge demand for him as a pundit, public speaker, perhaps coach.
For now however, the Irish and world rugby family alike wish him the very best in his retirement. It will be many a year before his like will be seen again.
Image Credit: James Crombie/www.Inpho.ie