Peter Wheeler CBE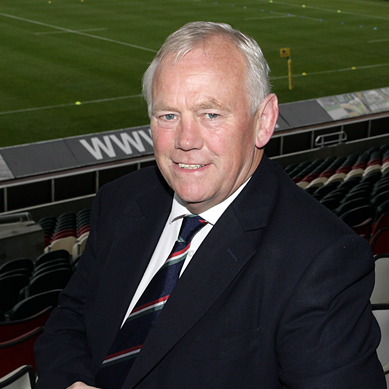 Peter was appointed Chief Executive of Leicester Football Club plc in January 1996.
He represents Leicester Football Club on the board of Premiership Rugby Limited and is the Aviva Premiership Clubs' representative on the board of European Rugby Cup Limited. He represents Premiership Rugby Limited on the RFU Professional Game Board. He is also a Director of England Rugby Ltd and England Rugby Partnership Ltd.
Well-known as a world-class rugby player, his extensive playing career had many highlights including:
Played 349 times for Leicester. Captain for 5 seasons.
Played 41 times for England. Captain in 1983/84.
Two British & Irish Lions tours – New Zealand (1977) and South Africa (1980) and played in seven Tests.
Eight appearances for the Barbarians including Australia (1976) and New Zealand (1978).
Through the Club, Peter is actively involved in many aspects of life in Leicester and Leicestershire. He is the current Chairman of the Leicestershire Business Awards. He was the Inaugural Chairman of the Leicester Regeneration Company, which drove forward the strategy for the regeneration of Leicester.
Peter has an Hon. MA from Leicester University, an Hon. DBA from Leicester De Montfort University and is a Deputy Lieutenant of Leicestershire.
He is Chairman of the Leicester Wooden Spoon Society.