Sarah Lavin hurdles into the record books
Posted on February 21, 2014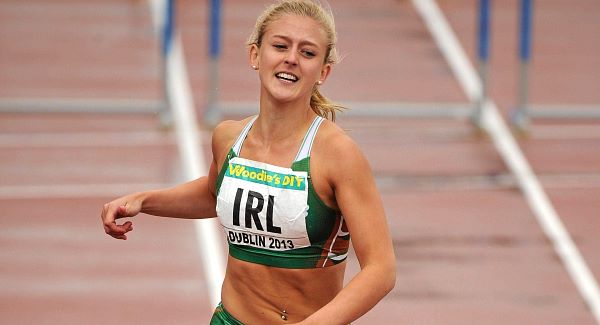 February 2014 has been a busy and exciting month for UCD AC's Sarah Lavin. While everyone was busy trying to stop the weather blowing away our homes, Sarah was busy in Sheffield blowing away the competition in the 60m hurdles at the British Athletics Indoor Championships.
Against the cream of British athletic talent, Sarah made a serious impression, winning bronze in a personal best time of 8.25 seconds. This times moves her to 2nd in the Irish all time standings behind Irish legend Derval O'Rourke (7.84 sec). At 19, Sarah is still yet to peak in her sport and if you consider that Derval O'Rourke set her time of 7.84sec while winning the World Indoor title in Moscow back in 2006, she was at the time 24 years old. While this time is a world class standard, all the signs are there that Sarah is on the fast track to joining Derval as a world leader and world beater.
2014 is expected to be a busy year for Sarah as she prepares for a number of regional, national and international events and aims to improve her PB even further, widening the gap on her competitors and closing in on Derval O'Rourke's stellar mark. Much has been predicted of Sarah in recent years and she has delivered consistently in that time. The future is most certainly bright for Sarah and it seems now only a matter of time before she graces our TV screens as the next big hope for Irish track and field. 30 months out from the next Olympic Games, do we dare dream?