Sarah Lavin Qualifies for the upcoming European Team Championships in Estonia
Posted on June 17, 2014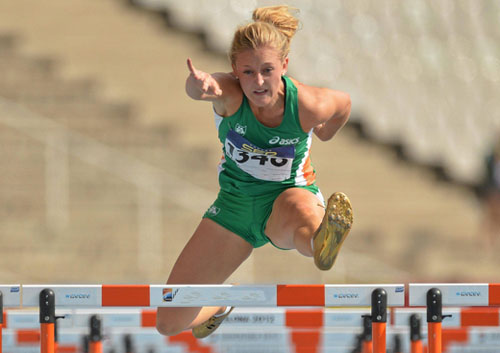 While the rest of us were enjoying the sunshine and probably eating one too many burgers from the BBQ, sprinting and hurdles starlet Sarah Lavin was busy qualifying for the Irish Team that will compete in the European Team Championship 1st League in Tallinn, Estonia from the 21st-22nd of June.
With one of the strongest teams in recent years set to line out Ireland will be targeting a top five position at the 2014 event as they compete against other countries including Estonia, Belarus, Greece, Norway, Romania, Portugal, Finland, Belgium, Hungary, Slovenia and Lithuania during the two-day competition.
Sarah takes her place among the Irish squad following impressive performances in the 100m Hurdles, an event that Sarah continues to make a name for herself as she transitions from the Junior to Senior level. Sarah is currently the Irish Junior record holder in both the 60m hurdles (8.36) and the 100m hurdles (13.34), breaking the previous records held by European Outdoor silver medallist Derval O'Rourke. Making the national team travelling to another senior games is just another stepping stone on her journey to international athletics stardom.
With an eye to the future and the European Athletics Championships in Zurich only 2 months away, Sarah will no doubt be looking to delivery yet another strong performance in Estonia in a bid to get her name on the roster for the flight to Switzerland in August.