The Bull – My Story
Posted on September 14, 2012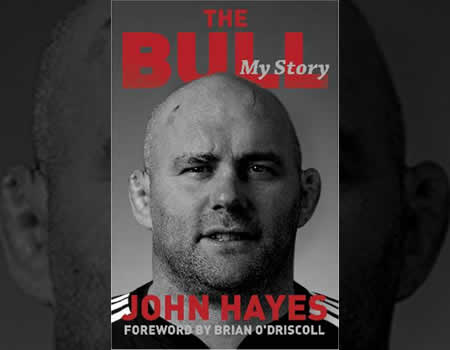 One of the most anticipated sporting memoirs in years is finally here. The Bull – My Story by John Hayes chronicles the life of one of Ireland's most recognised and admired sporting greats.
Since his retirement from domestic and international rugby in 2011 the rugby world has been waiting for this book. One of the most respected and hard working professionals ever to grace the game, John was the beating warrior heart of Irish rugby for over a decade. Not a flamboyant or loud man, his determination, sheer size and total respect for the colours on his back, John went about his professional with such honesty that he became like gravity. Teammates were drawn to him, relied on him and when it counted, The Bull delivered every time.
The Bull – My Story will finally lift the lid on John Hayes the man. From his early beginnings to his first picking up an oval ball at the grand old age of 18, to his countless towering performances for club and country.
On September 27th 2012, John will officially launch his autobiography, surrounded by friends and family in Limerick city, where he plied his trade for so many years. An Irish sporting hero is going to be honoured by his peers and like the man, it's going to be big.
From all at BSMG, congratulation John 'The Bull' Hayes.