The challenge for and of Ireland's new rugby generation
Posted on June 19, 2014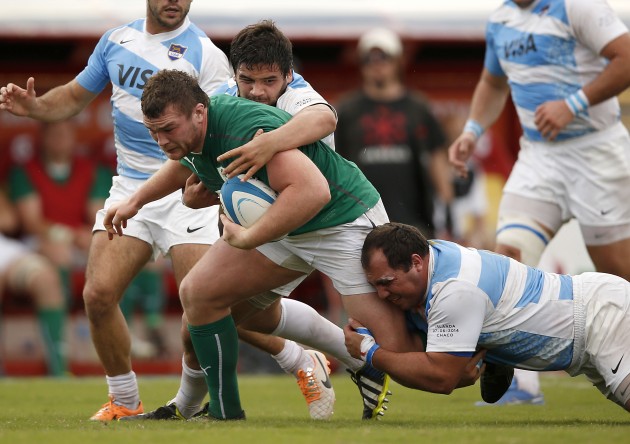 As with all great things, Ireland's golden generation of rugby stars are reaching the end. Gone is O'Driscoll and stars like Paul O'Connell and Gordon D'arcy wont see long after the World Cup next year. Time waits for no man. While we would be forgiven for indulging in a bit of doom and gloom, the emergence of Ireland's new generation of rugby stars can't help but lift the fog of despair.
This past season may have been the Brian O'Driscoll lap of honour but it was also the season in which we saw the emergence of Jack McGrath, Rhy Ruddock, Iain Henderson, Robbie Diack, Dave Kilcoyne, Paddy Butler, JJ Hanrahan and more. Both at provincial and now international level, this new generation has been building momentum over the last couple of seasons and the summer series' for both Ireland (Argentina) and Emerging Ireland (Nations Cup) has seen the changing of the guard in some respects. With change always come challenge. New coaches, new faces, new lessons but ultimately that same desire for success.
Rugby has seen an elemental shift in public support and perception over the last decade and this is now bearing fruit. The dawning of the professional era of rugby saw the old guard make way for the next generation and it heralded the greatest period of Irish rugby we have ever seen. Now as the first professional generation winds down we are seeing the emergence of the next iteration of rugby professional, all feeding off the glories of those you came before.
Rugby itself has evolved in that time. Ever changing rules, new leagues and even some sporting politics thrown in. This new generation of Irish rugby player now faces, in some ways, a more difficult future than the O'Driscoll era of stars. The re-hashing of the European Cup sees more finances go to both French and English clubs, something that will swell their already bursting treasure chests. The IRFU is facing an epic challenge to hold onto it's native talents as big contracts from abroad are dangled. This is truly a dog fight now for the IRFU and as with the provinces, the national setup and the public, they cannot sit back wistfully reminiscing about past glories. They must step up and fight for the next generation so that they too can reach the lofty heights of their idols.
With the Rugby World Cup practically on our doorstep next year, the upcoming season is going to be one where we see the O'Connell's and D'arcy's look to cling on to their youth and the Sexton's and O'Mahony's look to avoid injuries. The rest will jostle for selection by continually upping their game and their intensity. One thing that Ireland has in this time of change is an abundance of talent at practically every position on the field. Never before has Ireland been so talent rich. This will only serve to drive each and every player forward to becoming stronger, better, faster and will in theory make for a better squad come World Cup time.
It is time to wipe away the tears drawn forth by the passing of legends and take note of the future. It's big, it's bright and it is going to bring us the same highs and lows, the same pride to be Irish. I for one cannot wait.