Veteran scrum half ready to join the European centurions
Posted on December 17, 2013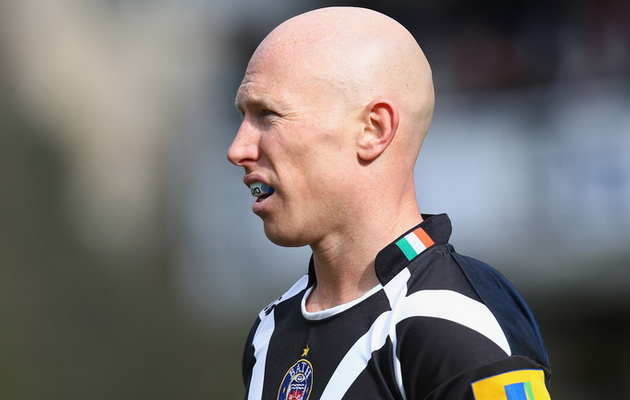 Peter Stringer is in line to become the third player to make 100 appearances in European competitions when Bath Rugby take on Rugby Mogliano in their Amlin Challenge Cup Round 4 game at the Recreation Ground on Saturday.
The 98-times capped Ireland international scrum half, who will celebrate his 36th birthday tomorrow (Friday, 13 December), is poised to join former Munster Rugby teammates, Ronan O'Gara and John Hayes, in the ERC 100 Club. His ex-half back partner, O'Gara, leads the way with 112 European matches, while Hayes ended his illustrious career on 103.
Stringer, who will receive a specially commissioned ERC Elite Award to mark his achievement if he is involved at the weekend, made his European debut in a Heineken Cup clash for Munster against Perpignan on 10 October, 1998. The French club ran out comfortable winners by 41-24, but it was the start of a remarkable run of 90 games in the Heineken Cup for the combative No 9.
Along the way, he played in three Heineken Cup finals and was a replacement in a fourth. He picked up a winner's medal in 2006 when Munster beat Biarritz Olympique at the Millennium Stadium largely due to his famous blindside try, and got hold of another two years later again in Cardiff when Munster beat Toulouse.
He played 93 games in the Heineken Cup and Amlin Challenge Cup for Munster between 1998 and 2011 before switching to Saracens, and then Bath. He made four appearances for Saracens in the Heineken Cup and has featured in three Amlin Challenge Cup games to date for Bath.
Stringer on his early days with Munster

"My first start was away against Perpignan back in 1998 – and it was a tough place to start! I'd never experienced anything like it before. I'd only been playing for a couple of years since coming out of school and I'd been playing local games. You're then thrown into the south of France and a hot bed of rugby and it was quite an eye opening experience. We didn't win but just to get a sense of playing on that stage, and in an atmosphere like that, was pretty special.
"I remember speaking to a lot of the older guys who were playing that day and had been involved in heavy defeats to Toulouse a couple of years earlier. We gave a good account of ourselves and things really started to grow from there. The supporters had travelled with us, and the whole thing seemed to kick off. The players enjoyed it despite the loss and it was a new experience for us."
On the special relationship with the Munster fans
"The confidence they've shown in the team over the years and the way they've stood by us win, lose or draw, has really stuck with the players. It really motivated us to know that whenever we played, home or away, they'd be there. That was a massive thing for us to be a team that would always be close to its supporters.
"They were with us every step up of the way – that meant a lot to us and really brought the best out of the team. The big games, the big occasions, getting to travel, people enjoy that. The more difficult a place is to get to, the more people seemed to find a way to get there, whether it be bike, bus, plane or whatever!
"Their support really motivated us. And they felt that they could meet us whenever they wanted to. We were close to the supporters and nearly everyone on the team grew up in the local area and every supporter felt like they knew a member of the team. There was a great closeness with the people of Munster and that was something really special."
On losing to Northampton Saints in the 2000 final

"As a team, we weren't that experienced playing on the big stage. One of the memories that stands out from that season was when Keith Wood came back to rejoin Munster and sat down with us all at the start of the year when we were setting out our goals. He said that to win the Heineken Cup was a goal. I remember people looking around at each and wondering, 'Really? Is this an option, is this something he thinks we're capable of doing?' Here was someone coming in from a really professional team in England at the time [Harlequins] and setting out his stall. From then on, everyone bought into it and went through the year believing.
"We had a great quarter-final at home and we had an away semi-final against Toulouse in France, which was an incredible experience. Getting to the final then was pretty surreal. A lot of us found ourselves in a position in which we never really believed we would be. Unfortunately, Ronan missed a kick and we lost the game by a point, but players and supporters will never forget that day. That really was the beginning of something special."
On defeat to Leicester Tigers in the 2002 final

"That was bitterly disappointing. Looking back at the two finals we lost, we probably felt we could have won the game in 2000, but in 2002 I genuinely felt that Leicester were the better team on the day. Had we snatched something at the end, we might not have deserved it. We had a play in the last couple of minutes to try and win the game, but it didn't quite come off.
"To lose any final is massively disappointing because you have it in your head that you will never be in that position again. Thankfully, the strength of the squad that we had, and the ambition that was there, meant we were able to come back and win two Heineken Cups after that."
'The Hand of Back'
"At the time it was pretty infuriating and not something you expect – and it's not something I'd ever experienced on the pitch before. But people try and get away with things in every single game, whatever level of rugby you're playing at. Touch judges and referees aren't going to pick up everything and it was just something they got away with.
"Looking at the game as a whole, if we had been totally dominant and should have won the game, then I would have been a bit more bitter about it. I don't think about it at all anymore. If we hadn't have gone on to win the Heineken Cup afterwards maybe it would still be one of those stand-out moments, but we went on to be successful after that. You move on and you forget about it."
On beating Biarritz Olympique in Cardiff in 2006
"We'd always got to the knockout stage and at that point, we were aware that we were there or thereabouts. We just needed to focus on the extra two or three per cent that makes the difference when it comes to succeeding at that final stage and not falling at the last hurdle.
"I'd have to say that 2006 was a great year. Getting to Cardiff again, having experienced it in 2002 and having seen what the atmosphere was like and how noisy it can be with the roof closed, it wasn't new to us. We'd gone through the year being pretty successful, winning a lot of games, so it was time. Everybody was ready. We'd been through a lot of defeats in semi-finals and finals and we had a good bunch of lads and some experienced players.
"We went behind early in the game, but we didn't panic. It was one of the greatest days in a Munster jersey, both for the team and for me personally. With the number of supporters we had in comparison to the opposition, you couldn't have written a story like it. The atmosphere, the way the game finished, and the emotion that was shown by both supporters and players was really a mark of a lot of heartache that we'd experienced in previous years. There was a flood of every kind of emotion when the final whistle went – it was pretty special."
That match-winning try
"It was pretty much off the cuff. There weren't too many plans and nothing was talked about before the scrum went down. The backs had a move called and they were expecting to get the ball. Out of the corner of my eye, as I was putting the ball in, I noticed the winger stepping in behind the scrum a little bit and I just presumed he was going to keep going. I turned my back, picked up the ball and, thankfully, he wasn't back on the short side waiting for me when I turned around. It was pretty easy in the end, it was just about being brave enough to go through with the decision not being able to see what I was doing. With Ronan getting a 100 per cent kicking record, it made the day.
"From the point of view of everything we tried to achieve from 1998 to finally getting there in 2006, it was special. We had something like 65,000 of our supporters there in a great stadium with a great atmosphere – was right up there as one of my best memories."
And on being there again in 2008 when Munster beat Toulouse
"It was different for me that year. When you find yourself on the bench, it is a bit different, particularly when you don't get on the pitch. It's quite frustrating, but you buy into it and you buy into the squad and the team.
"It was another incredible win, especially playing against a side like Toulouse. To be able to go back to the same venue again and recreate something was great. Again, it was one of the highlights. You don't take a Heineken Cup final for granted. That's what makes it such a great competition, it's so difficult to win and we found that over the years."
On reaching the landmark of 100 appearances in European competitions

"It makes me feel like I've been playing the game for a while! Obviously, it's a nice number to get to, but it's just a number – that's really all it is. It's really about the memories you have, the players you play with and the experiences you have on the pitch. That's what you take out of it. There's no point having those numbers if you're not successful and not winning things."
Credit: Mark Jones , ERC Rugby